Bio – Panner from Garam Foods is made with just two natural organic ingredients –Organic milk sourced locally and Organic lemon juice. 
Garam Foods Bio-Panner is really fresh as it takes maximum of three days from production reach the shop shelves with weekly fresh stocks.
This makes our Panner,  best in terms of quality, taste and freshness. 
Just add the wholesome nutrition to your diet with all our  Organic Panner. 
Rooted in Indian cuisine, paneer is a time-tested, naturally nutrient rich high-protein cheese which is favourite for millions around the world. It's a fresh cheese which has a soft and creamy texture that doesn't melt. Paneer is rich in healthy fats that keep you full longer. Plus, it's all natural, organic and completely gluten free. It has no added cultures or rennet. The cheese got little to no sugar or carbs, making it a great KETO option.
Our Milk is sourced from certified Eu- Bio and Bioland farmers from Baden wuttermberg region in Germany.  The cows are fed only with grass which makes the milk purest, richest and creamiest of all.  This is the reason why Garam Foods Panner is uniquely fresh, slight yellowish in colour and has a neutral milky taste. 
The bio full fat milk, the bio lemon juice,  the hygiene processing technology and our time tested recipes gives our panner the soft texture with  uniquely fresh neutral milky taste and slight yellow colour. 
If stored properly at 5°C, Paneer should last until the best-by date printed on the packaging. Once opened, please use it within 3 days.
Grill it, fry it, bake it or eat it plain. Paneer doesn't melt, so there are countless creative ways to use paneer.
Our natural paneer is the perfect nutrient-dense, vegetarian protein to the main portion of any meal. 
There are unlimited recipes, below are some of them. 
Heat 1 tsp oil in a grill pan. Arrange marinated paneer slices and grill on a medium heat, until golden colour on both the sides (approximate grilling time is 7 minutes for each side). Serve hot with green chutney / fresh salad / tomato ketchup or serve as side dish with rotis / pulao.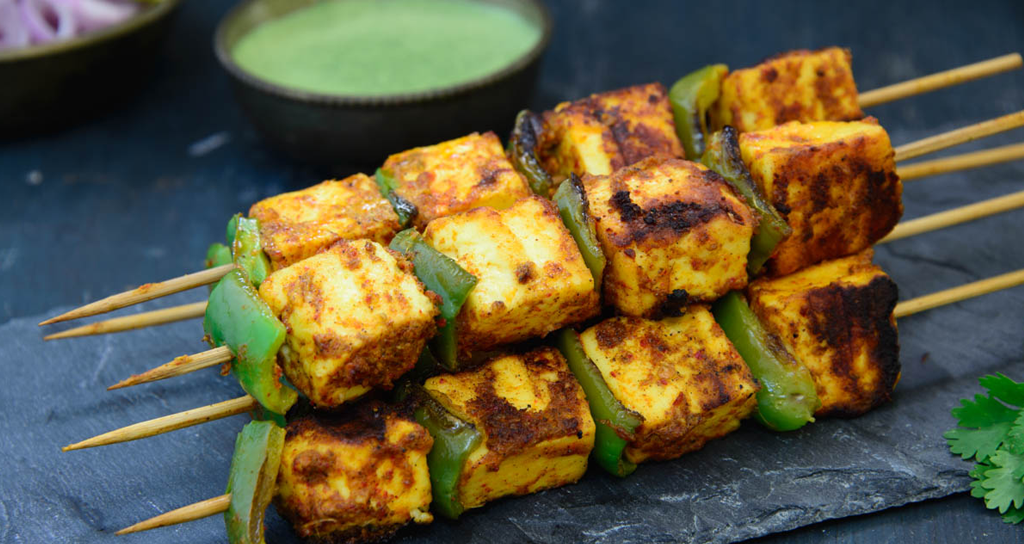 Heat oil in a pan,add jeera let it crackle.Now add crushed garlic.I used my garlic press to crush garlic. Saute for a minute.Get ready with all other ingredients.Now add onion saute till it turns transparent. Add carrot and capsicum saute for 2mins,then add the spice powders inlcuing red chilli powder,jeera powder,garam masala powder and required salt. Saute for 5mins in low flame.I wanted the veggies to be crunchy so did not cook covered, if you want it to be soft then cook covered for 2mins.Finally add paneer toss it. Cook for few more mins, then add crushed kasoori methi,toss and switch off.
Firstly, in a large mixing bowl take 1 cup grated paneer. Add 2 tbsp carrot, 2 tbsp capsicum, 2 tbsp boiled corn and 1 tbsp coriander. Additionally, add ¼ tsp chilli powder, ¼ tsp cumin powder, ¼ tsp salt and 2 tbsp tomato sauce. Mix well making sure all the spices are combined well. Now spread green chutney over a bread slice. Furthermore, spread 2 tbsp of prepared paneer stuffing. Cover again with bread slice spread with green chutney. Now grill golden or toast on tawa by spreading butter. Finally, cut half and serve paneer sandwich recipe.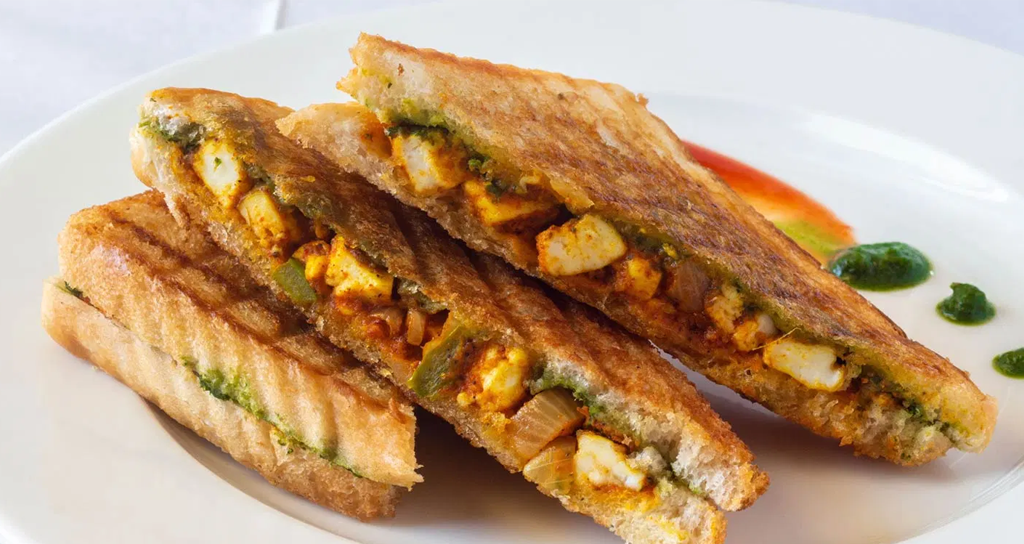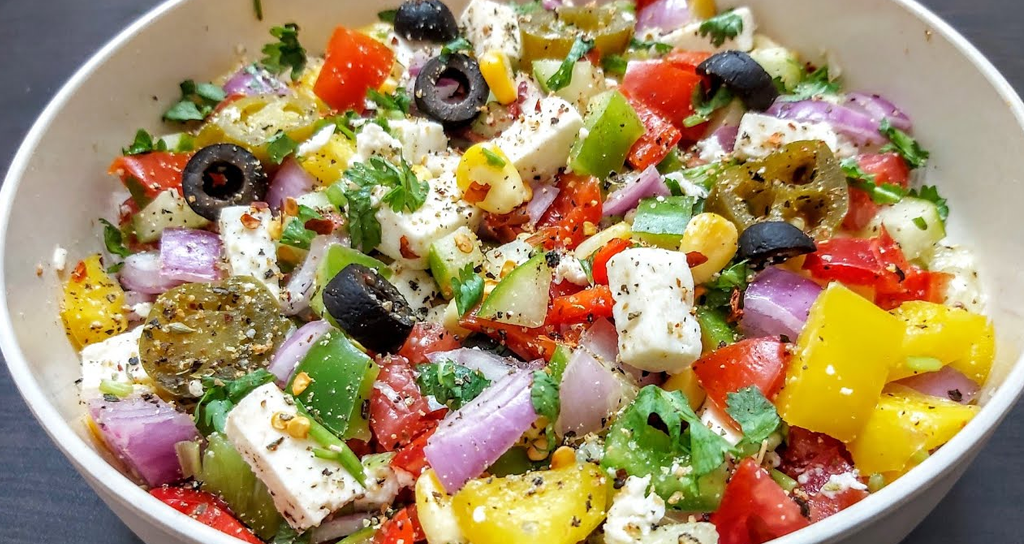 Here's how you prepare this easy paneer salad recipe at home by following some simple steps. Take a large bowl and add crumbled paneer, lettuce, cucumber, carrot, tomato and onion. After chopping all the veggies, dice the black grapes. Sprinkle salt and black pepper on the salad. Mix well so that the seasoning is evenly mixed. Garnish with coriander leaves. Serve your paneer salad at once. Do try this recipe, rate it and leave a comment in the section below.
Spread layers of butter and pizza sauce. Place cottage cheese cubes along with capsicum. Bake the pizza. Cool and cut the pizza into slices, serve hot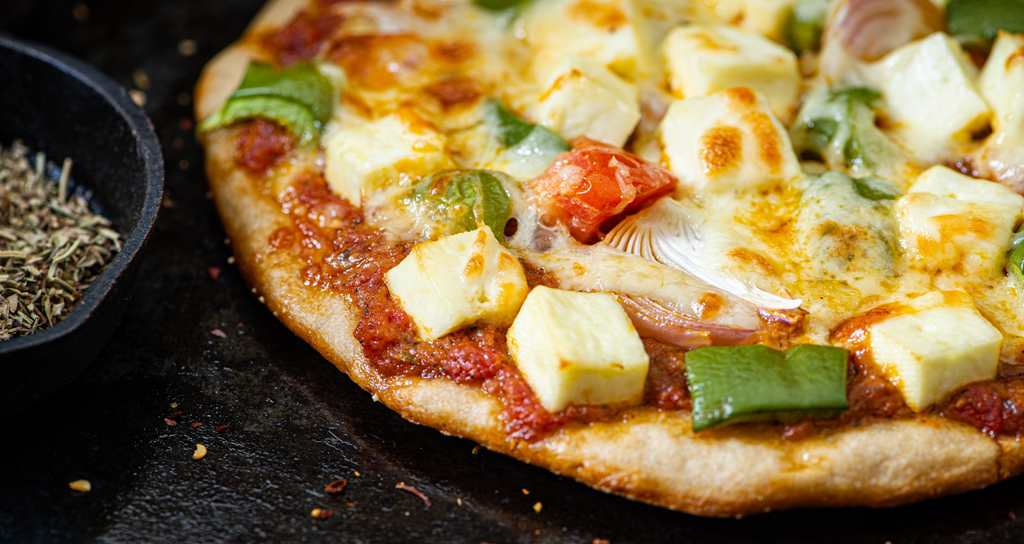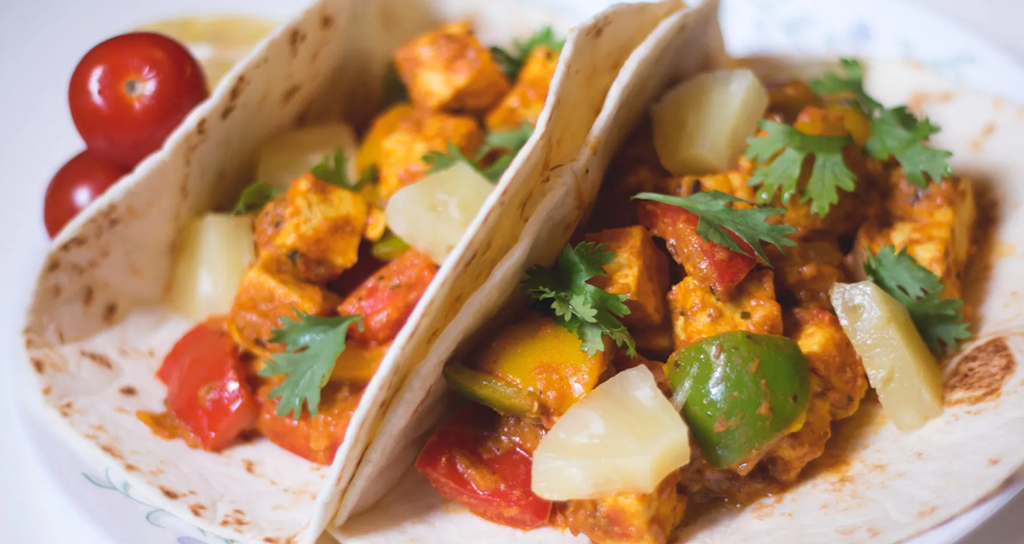 Heat oil in a pan. Add in onions and capsicum and mix well. Cook for few minutes. Now add in paneer and saute them well. Add peri peri mix and mix well.Warm some tortillas. Spoon filling in and spoon garklic sauce or mayo. Serve.