A dish of the Indian subcontinent with so much popularity and omnipresence. The dishes are roughly 1,000 years old and have the stamp of originality that is typical Indian.  You can get it in any nook and cranny of India, though the taste may differ according to the province's culinary influences. It is one of the most favourite breakfast/dinner for any south Indian.
The batter is made with the best quality rice,urad dal and methi seeds which is soaked, grinded and naturally fermented at right degree.
Masala dosa which is popular and loved by Europeans is made from this batter.
Side dish Recommendations:
Sambhar, Coconut chutneys, Onion Tomato chutney, Garlic Redchilli chutney, Podi are the favourites Idly & dosa goes well with every side dish and everyone prefers their own.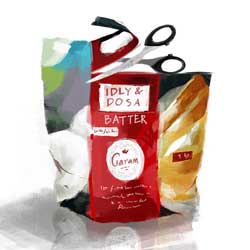 Wash the pack and Cut open the pack.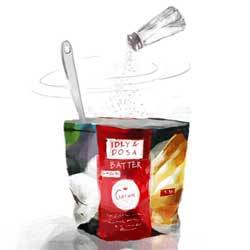 The batter is mildly salted. If needed, add the required amount of salt and stir the batter well before use.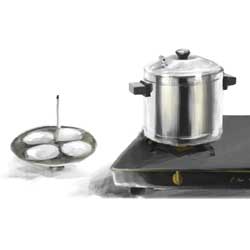 For Idly, just scoop the batter into idly plates and steam it for 10-12 minutes. Overcooking will make it hard.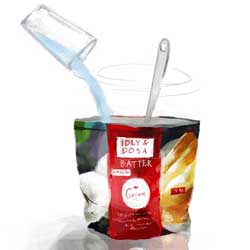 For dosa, add some water to the batter. After the addition of water it cannot be used to make idlies.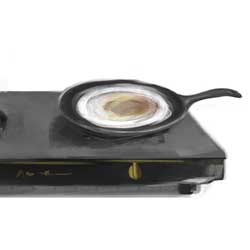 Heat a pan and using a ladle spread it in evenly to make dosa.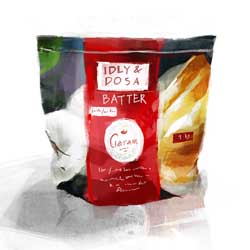 For longer use, always close the seal of the pack once used and refrigerate. Stays good in the refrigerator for more than a week, when stored at 5°C.
Idly is soft, steamed savory cake. They are steamed in "Idly Plates". Since it is cooked 100 % without oil or direct contact with heated surface, it is healthy, light and easy digestible. Not just for grown ups but also an usual first preferred meal for babies over 6 months.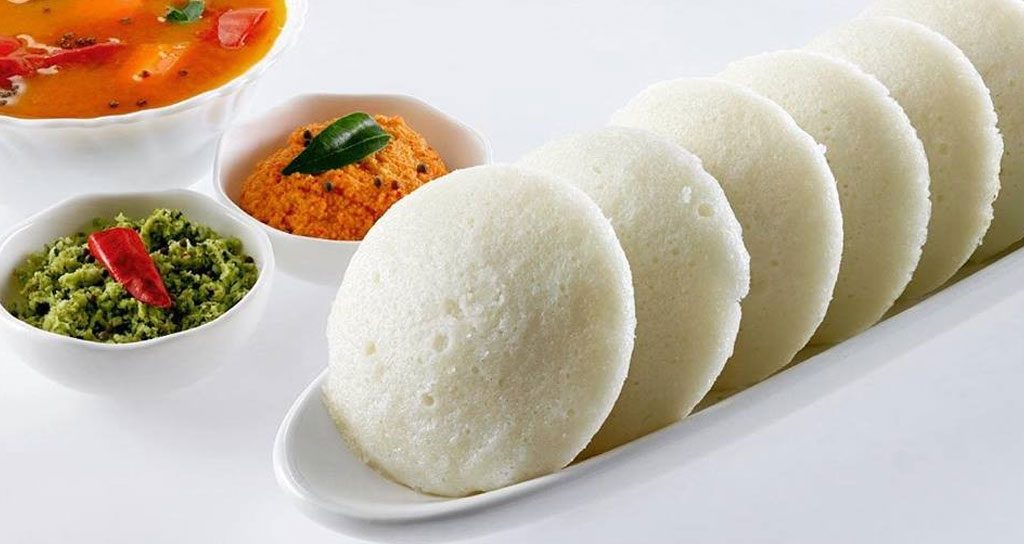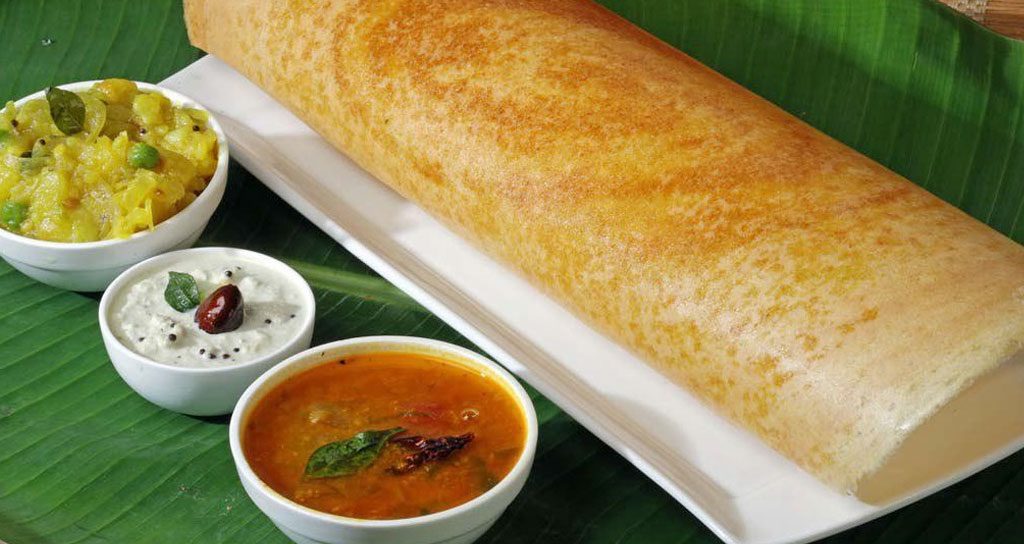 Dosa is made in a hot pan similar to that of French crepe. Dosa is crispy, golden brown in colour and tastes delicious. This is served in different shapes and sizes.
Uttapam can we termed as spicy and crispy pan cake "A thicker dosa" which is topped with different types of veggies like onion, tomato, capsicum, carrot, green chilli, sweet corn etc. which makes it even more healthier and tastier. For better taste prepare it with the batter older than 4 days.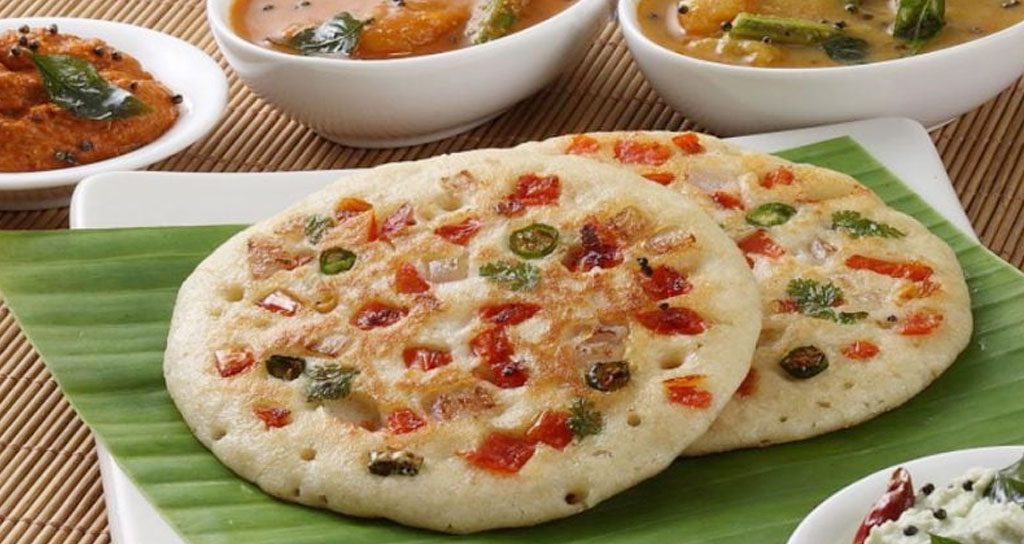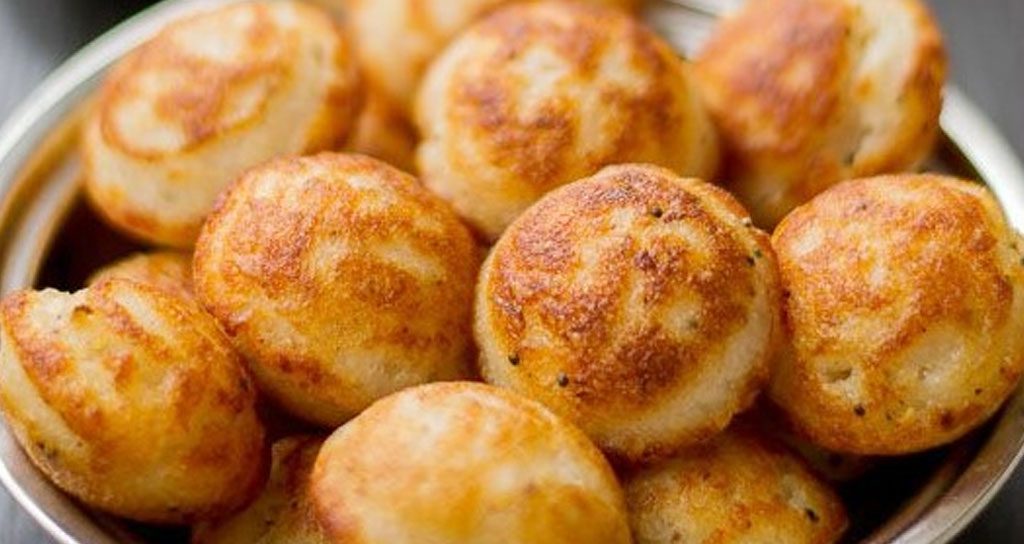 Paniyaram are ball shaped dumplings, which is crispy outside and soft inside. This can be made both sweet or spicy. For better taste prepare it with the batter older than 4 days.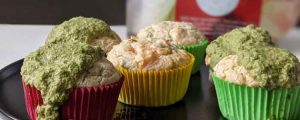 Try this glutenfree, vegan muffins for this weekend. You don't need idli mould/pan for this just muffin tray and add whatever vegetables you like, maybe cheese too and bake it.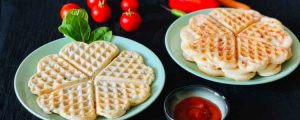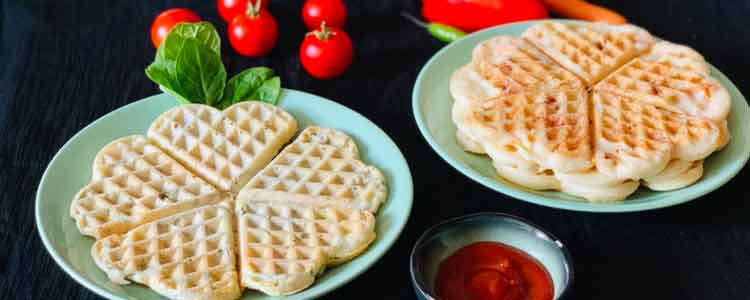 This Homemade Waffle Recipe is easy and makes delicious Belgian waffles! These waffles are perfectly crisp and golden on the outside while being light and fluffy on the inside! These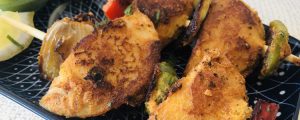 Tandoori idly are crispy, fried idlies marinated in a fresh spicy tandoor masala and cooked on stove top. Evening snacks with the twist in the normal idlies Watch the video